At XperDi, we have developed a SaaS that allows you full flexibility throughout the entire design process. Utilizing state of the art technology, our framework combines all essential data from sales to production in an effective and streamlined workflow - thereby minimizing sources of error and misunderstandings.
The architecture of XperDi CAD automation framework is built in a way that you are in full control of your CAD model at any given stage of the process. This is achieved by elevating the logic to a higher level, thereby separating it from the CAD-interface. This makes for faster processing speeds, while also enabling us to utilize APIs from various CAD-tools - giving you the freedom to work with the tool of your choosing.
Today XperDi CAD automation framework has been successfully implemented as an essential part of the design process for customers working with SolidWorks, Inventor, Creo, Catia and OnShape. In other words, we can help you work faster and smarter, regardless of your preferred CAD-tool.
XperDi CAD automation framework - Structure
Our framework lets you define and maintain your design rules, easily accessible, outside of the CAD environment.
By using this approach, we significantly shorten the runway from the start of a project to an actual implementation, as design rules can be developed and added on sporadically throughout the project. This means that there's no need to have the full scope of your project defined beforehand.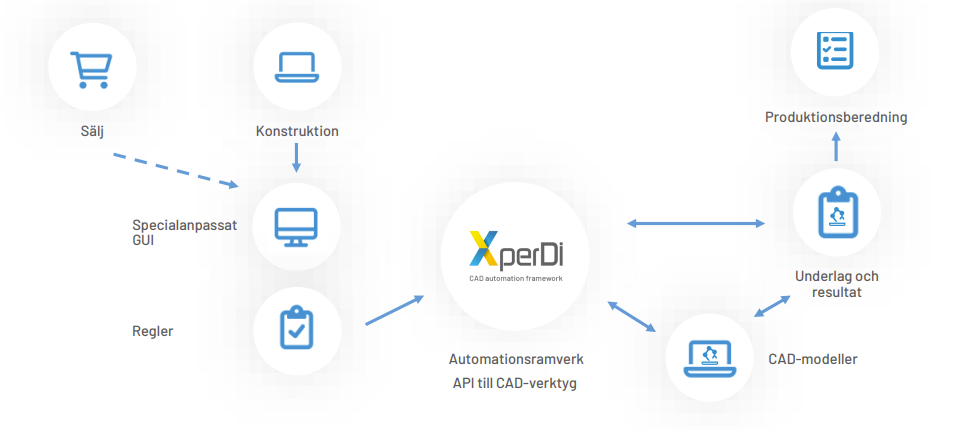 To feed the framework with necessary data, we often create a custom user interface to go along with it. We design this interface based on your product parameters and design rules in a way that options and choices for the design dynamically change according to input. This helps guide the user throughout the process and thereby minimize errors and impossible designs.
Depending on your desired workflow, input data can either be collected to the framework directly from the sales department, or make its way through the engineering departments first, for final adjustments and decisions.
Once you're satisfied with the input data for your framework, XperDi CAD Automation Framework will generate your model, utilizing the CAD-tool of your choosing. At any time, you can change your inputs and refresh your configured model, making it fast and easy to explore many different solutions or tune your product to perfection.
Since all the data regarding your product is stored in one place, we can easily automate generation of your manufacturing documents. Anything you need, such as laser files, drilling instructions, Parasolid models and drawings can be set up to generate at the click of a button.
By doing so we eliminate unnecessary bottlenecks and shorten lead times. It also helps standardize your workflow and reduces errors in the product that you deliver to your customers.
Our unique solution enables a short runway to the point where you have a functioning automation tool, catered to your needs. A tool that lets you keep full control of your model throughout the entire design process. We are also the only company that automates design of highly complex products and unique geometries, with driving parameters in a hierarchical multi-level system.